Endorsements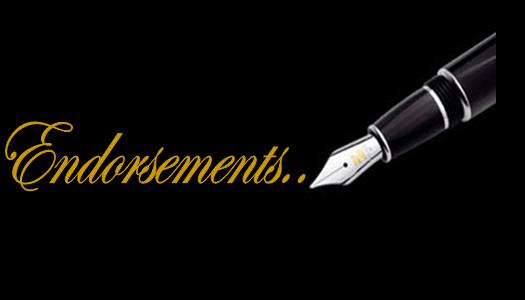 Dr. Hakeem Collins
"Allen and Francine Fosdick" are what I call a modern-day Aquila and Priscilla apostolic and prophetic team ministry called to upgrade the body of Christ in present truth, fresh new moves of the Holy Spirit and coming into the "kairos" seasons of God.

"Up Front In The Prophetic" radio broadcast is where God's voice, view and vision becomes the vehicle and sound of abundance of rain coming in glory to bless the hearer and doer of God's Word. Their continual commitment, hard work and cutting edge approach to addressing real issues concerning the church, the nation and the world is noteworthy. This equipping and transformative ministry is earmarked by God to teach and touch present and future generations who has an ear to hear what the Spirit of the Lord is saying to the church in this hour.

I highly recommend my friends the "Fosdick's" prophetic/apostolic mandate. You will be truly empowered, challenged, inspired, equipped and educated on what the Spirit of God is doing in this hour for glory of God. Tune in to the spiritual frequencies of Heaven on earth through the airwaves of this ministry.

Dr. Hakeem Collins
www.hakeemcollinsministries.com
Bill Yount
Upfront in the Prophetic is a cloud by day and a fire by night for those who have ears to hear what the Spirit is saying. Fresh manna comes through Allen and Francine Fosdick's radio sound waves.
Bill Yount
Dr. Mark Chironna
The Fosdick's have seized a moment in God, a kairos moment, to explore the riches of the Kingdom from a prophetic perspective with the nations via their "Up Front In The Prophetic" radio broadcast. Their commitment, passion, and zeal for the things of the Spirit is a delight to experience.
Their life-quest in Christ is a blessing to many. Join the journey with them! Tune in!
Dr. Mark Chironna
Theresa Phillips
I fully appreciate this wonderful couple as they take the risk of world-wide attention for the prophetic!
Not only will they risk themselves but their conviction of the proper use of the prophetic is outstanding.
As a friend and colleague of theirs I would say whole heartedly seek them out!
Invite them to come to your ministry and watch the atmosphere grow in dignity honor and love for all who are willing..This couple are amazing they have never forfeited the purpose of GOD by loving at all cost Listen to their program and grow …
Theresa Phillips
www.ChicagoPropheticVoice.net
Mary Lindow
"Allen and Francine Fosdick not only express a radiant and joyful outflow of the love of God, but demonstrate it through the giving of unconditional love, time, compassion and personal resources to others in the Body of Christ as well as those who need to know the touch of the Savior. The Fosdicks are people who are the "real deal" when it comes to being genuine servants of Jesus. I highly recommend them as gracious servants of the Most High."
Mary Lindow
Glenn Bleakney
It is my privilege to recommend to you Upfront in the Prophetic, the radio ministry of Allen and Francine Fosdick.
As a guest, I was impressed with the quality of the program as well as the levels we were able to reach in the course of the interview. Upfront in the Prophetic is not your typical radio program. From a clear Kingdom perspective, Allen and Francine tackle head-on critical issues facing the Body of Christ and our world today unabashedly presenting Jesus Christ as Savior and Lord of the world."
Glenn Bleakney
Founder and Visionary
Awake Nations Ministries
www.AwakeNations.org
David Lebo
POPPM is a frontlines ministry engaging our culture with a variety of relevant, powerful radio shows communicating the gospel of Jesus Christ;discussing the sometimes difficult subjects in an open and honest forum that many might try to ignore or forget. With a fresh and exciting transparency that draws the listeners into the very heart of God, POPPM is helping to transform our world to make a difference! Thanks Allen and Fran for obeying the call! May God bless and expand this very crucial ministry! David Lebo / author/ prophet/ "Abiding Under The Shadow: God's Call To Return To Covenant Relationship For His People"